Product
Microsoft Teams remote productivity best practices
Our top 7 best practices for using Microsoft Teams as a productivity tool.

Microsoft Teams Remote Productivity Best Practices
For most organizations, remote working is the new normal. With many team members working simultaneously, it becomes challenging to coordinate the team through effective communication.

By design, Microsoft Teams helps create a virtual office setting by ensuring everyone is online and can collaborate securely and effectively. It has numerous pre-loaded features and add-on apps from the app store that make remote work more efficient.
Read on for tips on some of the best practices to stay connected, enhance productivity, and optimize available features.


1. Use Channels in Microsoft Teams to Focus Discussions
Microsoft Teams uses channels to organize conversations. Everyone on the team has access to the channels, so you can manage them as you wish by project, topic, or discipline.

Start by creating the main channels and have descriptive names to help team members know where to share their contributions and where they'll find active discussions.
On every channel, include tabs for tools such as Planner and OneNote so that members have access to them without leaving the channel.

To avoid confusion and miscommunication, avoid creating new teams for all new projects in Microsoft teams. Add new channels instead for all discussions and form smaller groups within the team. This organization method suits even large teams, boosting productivity and focus as team members will only receive relevant updates.

It's also possible to have a private chat or with a small group. Use @mention to get someone's attention. Additionally, you can call from the channel or private chat, both voice and video calls. Invite the team members, share the screen and proceed.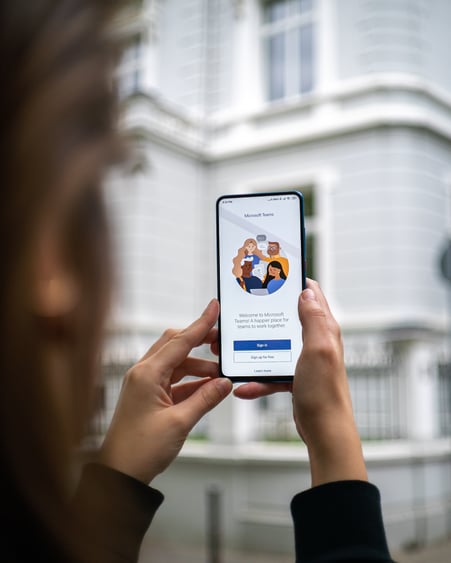 2. Download the Microsoft Teams Mobile App
Microsoft Teams also has iOS, Android, and Windows Phone apps to keep you constantly connected with your team. Ask all team members to download it from Google Play Store, Microsoft Store, or the App Store.

The app allows remote access to discussions, essential files, and meetings. During off-work hours, your team members can set quiet time, which prevents endless notification messages.
3. Collaborate on Office Files in Microsoft Teams
Microsoft Teams enables collaboration among team members working on similar files, same as Office 365. You can upload files in the chat and save them on SharePoint for easy sharing.

Team members can view, edit, and discuss an uploaded file, ensuring everyone has the newest updated version. They can save time and focus on productivity.
4. Make Use of Apps and Bots to Enhance Productivity
Microsoft Teams has integrated bots and apps that help to enhance productivity at work. For instance, use the Icebreaker bot to onboard new teams and encourage interactions among all team members.

Every week, the bot selects two team members who get to socialize and build a rapport. The selections depend on calendar data, where the bot proposes an appropriate time to avoid inconveniencing either person.

You can also use the Workbot to help you access other applications without having to leave Microsoft Teams. You'll spend less time switching between applications, increasing the time you'll have to be productive.

During virtual meetings, use polls in the chat option to encourage participation and Employee Engagement. It helps gauge the level of understanding of a particular topic and allows voting when making impactful decisions.

Use the Microsoft Planner to keep upcoming tasks organized and to monitor the status of active jobs. The crisis communication function helps you coordinate your team during a crisis.
5. Utilize OneNote
Integrating Microsoft Teams and OneNote is a great way to enhance productivity. OneNote helps your team members to record notes during meetings. They can also share the notes with other members to ensure everyone stays in the loop in meaningful discussions.

You're able to organize and store the notes within the appropriate channels so that team members can access them anytime.
6. Share Useful Tips with Your Team
There are numerous tips on using Microsoft Teams effectively to enhance productivity and save both time and effort. It's essential to learn them before introducing Microsoft Teams to the entire team. Some helpful tips include:
Using the @mention option to notify the team member mentioned in the tag. It helps to catch their attention and prompt response on essential issues


Recording virtual meetings to allow team members to revisit meaningful discussions later on


Adding a bookmark to mark important messages to keep track of them within conversations


Utilizing shortcuts to save time, such as the recent files option that eliminates the need to scroll through multiple folders looking for information
Using the 'raise your hand' option during meetings to avoid talking over each other during virtual meetings
7. Keep it Fun!
Remote working can get lonely at times. It's therefore essential to encourage virtual team interactions on Microsoft Teams. One great way to achieve this is by using the Microsoft Whiteboard app to set up brainstorm sessions or virtual coffee dates.

Create fun activities such as virtual challenges or quizzes and keep conversations alive by using emojis and customized GIFs.
Give ModuleQ a Spin
ModuleQ is an integrated AI app available on Microsoft Teams. It uses current collaboration data like meetings, contact information, and emails to personalize the user experience. Set up different profiles using the settings to select relevant interests and enhance security by preventing unauthorized access. Your team can also share important information quickly and nurture strong client relationships by proactively following up on quality leads.