ESG
Real-Time ESG Data for Knowledge Workers
Microsoft Teams, ModuleQ, and Refinitiv offer real-time, relevant ESG data to cut through the immense amount of data and noise out there
Matthew Sekol is a WW Sustainability Industry Advocate at Microsoft. He empowers companies to create positive change in the world. Matthew has built a thought leadership platform to empower corporate change. His unique perspective comes from his diverse industry experiences, a deep understanding of the latest sustainability trends (including ESG), and connecting technology to help connect innovative ideas to their risk and opportunities.


ESG, or the Environmental, Social, and Corporate Governance factors that can impact a company's risks and opportunities, are gaining more and more traction every day. These non-traditional 'pre-financial' risks are becoming increasingly important for businesses to make better and more informed decisions. Typically, a Capital Markets firm and investors will get a peek into this work on an annual basis in a one-off CSR report and not in the 10-K filing.
There are already very well-established ways to access real-time Financial Services data via analyst dashboards and even broker/dealer platforms for retail investors. However, there aren't any ESG information pipelines coming from corporates directly yet, and only a few accepted and non-enforced standards for obtaining high-quality ESG data, none of which are available in near real-time.


Access to Real-Time ESG Data is Out of Reach for All
Unfortunately, it is challenging to gain access to timely ESG data from corporates to Capital Markets firms because many investments haven't digitized or streamlined their operational and stakeholder engagements yet. This is a significant business issue as ESG data can impact the allocation of capital across the markets.
As a result, there are lagging indicators mostly in play to help make decisions for Capital Markets firms, so analysts and researchers are left to fill the gap with their own processes to uncover news in all that noise. For this group of people, dealing with uncertain data and creating insights is their day job. They have the time and processes set up to ingest massive amounts of information, and many do it well.
For customer-facing knowledge workers including those in sales, advisors, and deal teams, scouring the internet and social media for the latest news is extremely difficult and time-consuming. It doesn't naturally fall into their existing workflow and cause hours of lost time. As this isn't part of their primary job function, they lag even further behind on capturing relevant information and surfacing it with clients. These missed insights mean missed opportunities.


ESG Data Needs to Integrate into the Productivity Workflow
Knowledge workers need fast and relevant information at their fingertips as the news hits the wire. It could be the difference between being embarrassingly 'scooped' by a client, in the case of an advisor, to missing a major news story before presenting a pitch deck for a big acquisition.
Access to ESG data and relevant news stories needs to be democratized so that it surfaces into a knowledge worker's workflow seamlessly. With so many workflows today integrated into the M365 stack – Excel, PowerPoint, Outlook, and Teams, it only makes sense to look at solving this problem through the ubiquity of these tools.
While we often talk about Teams as a great way to collaborate with each other, one thing that isn't talked about often is its extensibility. Teams enable collaboration with ESG data through solutions that can be directly integrated into the platform. This can make a big impact on knowledge workers because it sits within the Office ecosystem.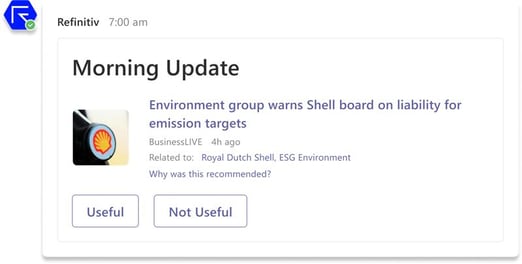 ModuleQ is a Teams-as-a-Platform startup, built on Azure, that leverages proprietary AI and data from the Microsoft Graph to surface personalized insights within knowledge workers' daily Team's workflows.
They have partnered with Refinitiv, a London Stock Exchange Group (LSEG) business and a global leader in ESG data. Through their strategic partnership, Refinitiv and ModuleQ are collaborating to deliver ESG insights directly into the Teams experience in the form of a new product called Refinitiv AI Alerts. Leveraging a combination of proprietary AI from both companies, Refinitiv AI Alerts can detect breaking ESG-related developments in real-time and route them to the people who need to know. Alerts in Teams also provide links back into Refinitiv Workspace for users to perform more detailed analysis. By automatically and proactively surfacing ESG insights and data when and where they are needed, Refinitiv AI Alerts solves the "last mile problem" in ESG data.
As this ESG information is delivered in Teams, it can be incorporated into other Office documents seamlessly, ensuring quick data delivery and insights without disrupting the knowledge worker's workflow.


Relevant ESG Data When You Need It
While 10-K's represent a financially material risk, real-time ESG data can represent both 'pre-financial' risk and new opportunities. Sustainability reports are already highly scrutinized for how companies are mitigating risk and creating sustainable operations and news feeds are endlessly scoured for additional insight, but there is simply too much information. ModuleQ, Refinitiv, and Microsoft have come together to overcome one of the biggest challenges with ESG data – immediate access to timely and relevant ESG news.
For knowledge workers, this will save them a lot of time by democratizing access to relevant ESG news using augmented AI tooling that is typically only relegated to the analysts and investors. This frees up capital to be allocated accordingly, whether it is to incentivize a change, divest from a risky activity, or maintain long-term resilience.