Sales Enablement
Revenue Intelligence is about Engaging Your People
Revenue intelligence starts with people and the context they need to drive conversations with customers.
What is Revenue Intelligence?
Revenue intelligence takes a holistic approach to accelerating business growth. According to Forrester, revenue intelligence technologies "leverage buyer signals and interactions to produce insights that allow go-to-market functions to continuously improve execution performance and optimize the revenue engine across multiple areas: engagement and productivity, revenue cadence and forecasting, and the overall optimization of the revenue engine itself."
Focus on Your People
Business relationships are about empathy, trust, and creative problem-solving. That's why people are at the center of enterprise revenue generation and will be central to the future of revenue intelligence due to the overwhelming competitive advantage achievable through the application of People-Facing AI®.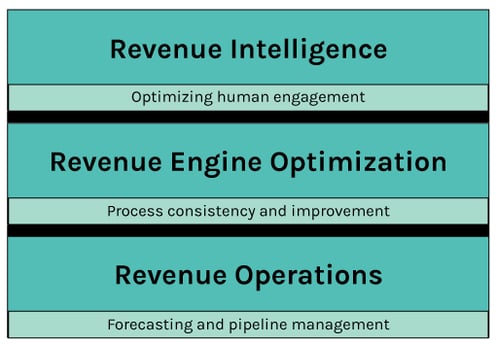 Revenue intelligence augments your customer-facing people, so they can better understand the customer's needs (more empathetic), respond faster and smarter (builds trust), and deliver more valuable solutions.
Traditional sales technology focuses on managing the data, activities, and resources involved in serving customers. CRM systems track pipeline and generate forecasts. Engagement platforms drive, analyze, and optimize outreach. Success platforms help manage existing customer relationships. Content and learning platforms manage assets for educating and equipping your team. These systems are centered on pipeline, prospects, customers, and content. None of these systems are focused on your people and on enhancing their cognition, productivity, empathy, and engagement.
Revenue intelligence takes the opposite approach, pivoting the focus to the people who drive revenue: instead of starting from data, activities, and resources, revenue intelligence starts with people and the context they need to drive conversations with customers. The shift in perspective is enlightening and inspirational.
Customer-facing professionals are suffering from extreme information overload. Crucial resources are scattered across far too many siloed apps and portals. Organizations invest heavily in sales and marketing collateral, but their people don't know where to find it. Powerful business analytics go to waste because people don't receive the right insights at the right time, with the right context. Employee experience needs to be unified, simplified, streamlined, and up-leveled.
People-Facing AI is the Key
People-Facing AI powers proactive, personalized experiences tailored to the specific needs of each customer-facing professional. News and breaking alerts automatically targeted to their prospects and coverage areas. Pre-meeting intelligence summarizing the most relevant analytics, insights, news, and collateral. Prompts and cues that surface actionable, contextualized data from the existing sales technology stack, oriented to the current needs and priorities of the user.
Engagement is the acid test for revenue intelligence. Do overloaded professionals see enough value to engage? The most effective revenue intelligence platforms drive engagement of 60-70% DAU/MAU, comparable to leading social media experiences. The comparison makes sense because effective customer-facing professionals are obsessed with their customers – so give them a solution with precisely targeted, highly impactful, customer-relevant updates, and they're hooked!