Microsoft Teams
23 Microsoft Teams Tips and Tricks to Kick Off 2023
Simplify your workspace with these Microsoft Teams tips and tricks for the new year.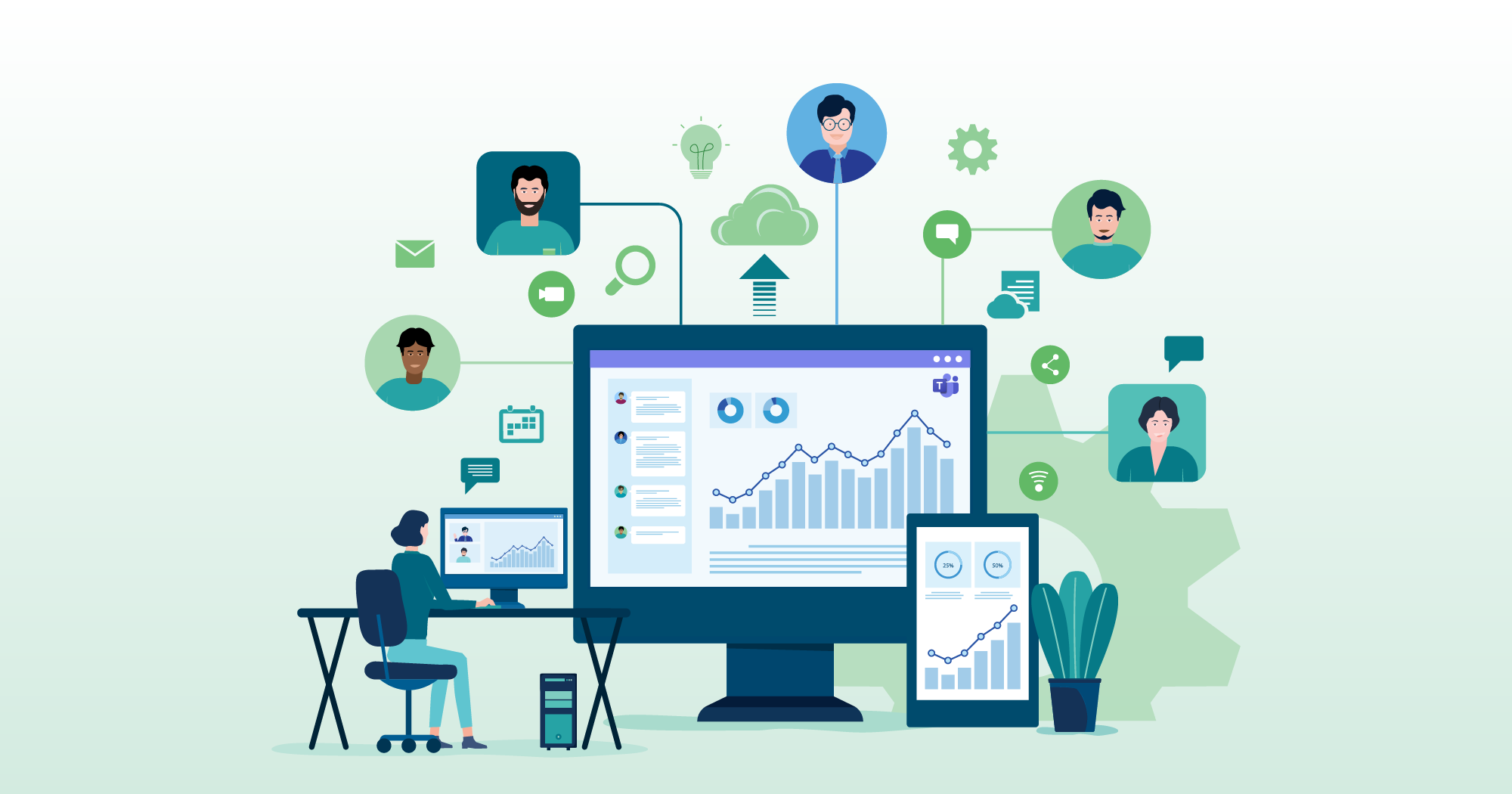 The new year is here! This means new opportunities, new challenges, new victories, and new tips and tricks to try to make your work life better.
Here is a list of 23 tips and tricks you can try when using Microsoft Teams to make the most out of it.
1) Set Your Status Duration
Microsoft Teams gives you the freedom to set your status. For example, you can simply set your status to "Do not disturb" for an hour, and Microsoft Teams will automatically reset your status at the end of the hour.
2) Create Tabs in Chats
Microsoft Teams gives you the ability to add tabs to a chat. Create personal tabs to organize your workspace, or create shared tabs for your team or group chats. Owners and team members can do so by clicking "Add a Tab" at the top of the chat.
3) Schedule Messages for Later
Type out your message to an individual or group chat and before you click send, right click the "send arrow" and select "send at scheduled time". Pick your day and time and Teams will deliver it then. Perfect for collaborating with team members in other time zones or for ensuring your message gets delivered a specific time.
4) Pin Important Apps to the Left Rail
On the Teams app bar (left handrail), you can pin personal apps by right-clicking on the app icon and clicking pin.
5) Use ModuleQ
Receive personalized insights directly in Microsoft Teams powered by People-Facing AI. ModuleQ gives you timely insights when you need them most, like before an important meeting. You can find ModuleQ in the Teams App Store to add it to your workspace.
6) Use Live Transcriptions
Microsoft Teams allows the activation of live transcriptions, which is an added advantage for deaf and hard-of-hearing individuals.
7) Send Urgent Messages
To ensure your message is noticed by the recipient, you can mark it as important or urgent just beneath the compose box, and the words IMPORTANT or URGENT will be added to your message.
8) Refine your Search Results
So you don't waste your time while searching Microsoft Teams, you can use the Messages, Files, or People tabs above your results to refine your search. Other filters will appear after the first selection to enable you to refine your results further.
9) Use Meeting Reactions
Emojis always bring out the best reactions, and anyone using the Microsoft Teams app can react to a message using a custom emoji.
10) Take Meeting Notes
On the Meeting Notes tab in a meeting with other members, you can jot down important notes. It offers numerous features, such as adding the agenda, @mentioning other participants, and formatting options for the text.
11) Bookmark Important Conversations
You don't need to scour through Microsoft Teams trying to find that one important message. Click on the three ellipses in the top left corner of the message and select "Save this message" and you're good to go.
12) Mark Messages as Unread
The functionality of any messaging app can be found on Microsoft Teams. Press and hold on a message to mark it as unread and you can review it later.
13) Create Tags for Groups of Users
Microsoft Teams offers the flexibility to create and assign custom tags that categorize different users based on things such as their roles, skills, projects, or even their location.
14) Record and Transcribe Your Meetings
You can capture audio, video, and screen-sharing activity from a Teams meeting with the record function. You can even get a script of the Teams meeting by enabling the "transcript" function. You don't need to pay for transcription services anymore.
15) Title Your Conversations
To make conversations easier to find, you can add a title relevant to the chat.
16) Adjust Other Notifications
You can set up Microsoft Teams notifications to get notified when new messages appear in all your channels, just favorited channels, or only when you're mentioned.
17) Start Calls Directly within a Chat
By selecting video or audio, you can start a call directly within a chat.
18) Blur Your Background
If you enjoy your privacy or just want to hide the messy kitchen behind you, you can blur your background prior to joining a meeting. You even add a custom background.
19) Connect with SharePoint Sites
As soon as you make a channel in Microsoft Teams, a SharePoint folder is made for you automatically. You can also add a document library from a different SharePoint site as a tab.
20) Connect Other Third-party Apps and Bots
Microsoft Teams allows you to connect and also decide what third-party apps can be used in your Teams. Click Apps on the bottom left of your Teams app to add a new one.
21) Use @mention to Send and Filter Messages
If you want to refer specifically to one person, you can do so by @mentioning them by name, such as "@ModuleQ". Or, you can filter messages by using the @mention as a message filter.
22) Forward Email Messages into a Channel
From the Outlook desktop app, you can share a copy of an email with its attachments directly to Microsoft Teams.
23) Use the Search Bar as a Command Line
The Teams search bar also functions as a command-line terminal. You can speed up some of the most common tasks by typing one of the recognized commands: /files lets you see your most recent files, /unread shows you what's new, and /call lets you make a call. You can find the list of commands here.