Press Release
ModuleQ is now a Microsoft Gold Partner
Helping workers succeed with personalized insights, via Microsoft Teams, on Microsoft Azure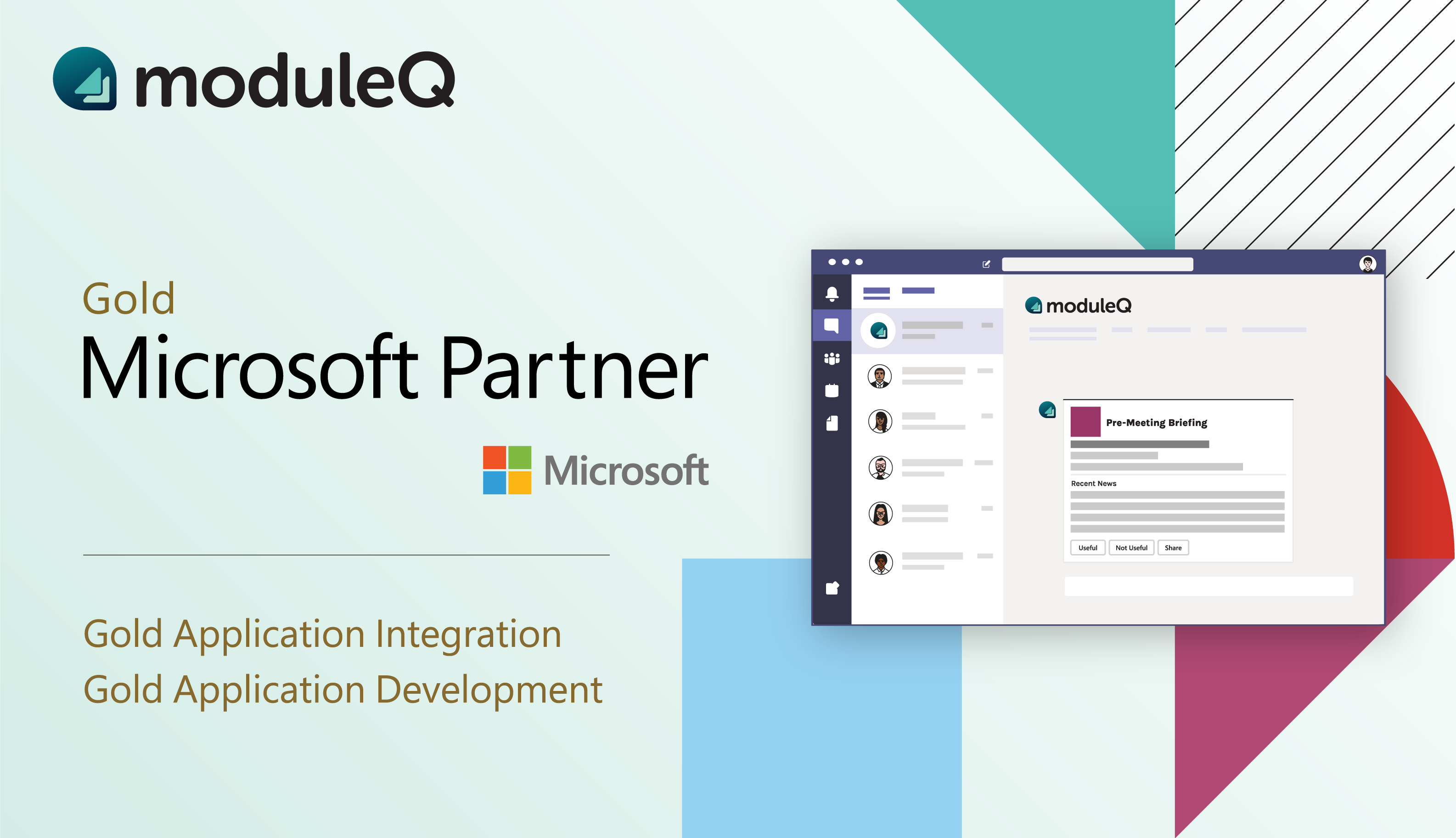 Like every relationship, successful business partnerships take long-term commitment and hard work. That's why we're proud to share that ModuleQ is now a Microsoft Gold Partner. This elite status, achieved by only about 1% of Microsoft's partners, reflects our deep investment in the Microsoft technology stack.
Microsoft is an ideal partner for ModuleQ on our mission to help people work smarter with Artificial Intelligence. Based on decades of PhD research, our patented People-Facing AI leverages the full power of the Microsoft stack to help workers succeed with personalized insights, delivered at crucial business moments. Together with Microsoft and more global partners including The London Stock Exchange Group and World Wide Technology, we're creating the future of work on the Microsoft Teams platform.
People Facing AI makes information proactive. Timely insights come and find you automatically, giving you heightened awareness to seize fleeting opportunities. Seamless integration into Teams means you can stay in the zone and minimize distractions. People-Facing AI integrates with Microsoft Graph to understand your current relationships and business priorities, so it's always on point. Customers supercharge the AI with additional Microsoft integrations including Dynamics, Viva, SharePoint, OneDrive, and Power BI. It's the Age of Smart Information.
Building on Azure infrastructure enables ModuleQ to meet the security needs of the most demanding enterprise customers. Take it from our VP of Engineering, Joseph "Jaz" Zuromski: "Azure gives us the tools we need to deliver a highly secure solution at scale. Azure capabilities are so extensive and powerful, that half the battle is knowing which technologies to deploy and how to optimize them for our use cases. Microsoft's training and certification process helps our people acquire this important expertise, and is a key part of attaining Gold Partner status."
ModuleQ's partnership with Microsoft goes back to our company's most formative period. Almost six years ago, at the Microsoft Build conference in March 2016, Satya Nadella advanced his vision for a new world of human-AI collaboration. USA Today summed it up in Satya's own words: "bots are the new apps."
ModuleQ's founders David Brunner and Anupriya Ankolekar immediately grasped the transformative power of Satya's vision. By providing APIs for bots to interact with users inside the apps where they work, Microsoft would open the door to a new era of human-AI collaboration. We set to work immediately.
When Microsoft announced the launch of Microsoft Teams in March 2017, support for bots was included, and ModuleQ was ready. We were featured in the Microsoft announcement as one of the first partners developing solutions on the Teams platform. Since then, we've grown into the leading global provider of AI for the Teams platform. In February 2022, the London Stock Exchange Group announced Refinitiv AI Alerts, an intelligent assistant for Teams, powered by People-Facing AI from ModuleQ.